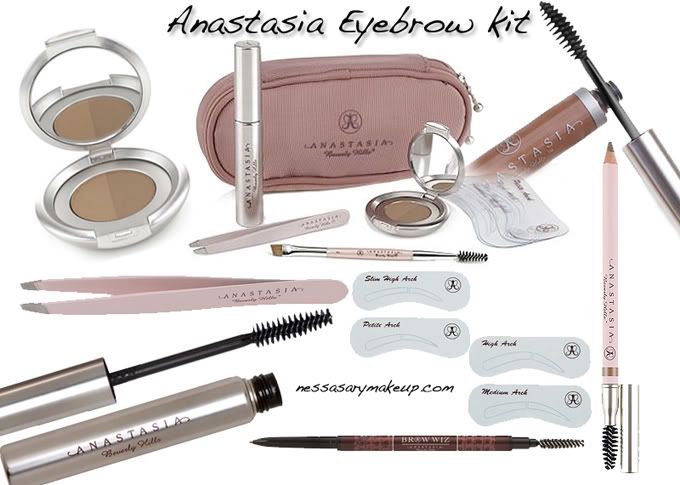 I just got back from the Anastasia Focus Group, and it was actually A LOT of fun! I met a few girls (also brought Erica and a few of my co-workers with me) and it was really nice getting to know everyone's general thoughts about skincare, products in general, etc., and just talking about everything pertaining to beauty.
For attending the focus group, we each got a BAG FULL of goodies from Anastasia (www.anastasia.net): eyebrow palette, sharpener, tweezers, matte and shimmer highlight eye pencils, eyebrow gel (I LOVE this stuff!), eyebrow pencils, and stencils, and more! I really like Anastasia products, Anastasia herself is an aesthetician, and specializes in the art of eyebrows and has worked on many celebrities. Her products are awesome because they cater to everyone, even those of you who don't really wear makeup, you can frame your face and really make it prominent by shaping and grooming your eyebrows!
Someone asked that I do a tutorial on eyebrows (I will do a video and some photos soon, I did a video and didn't like it so I ended up deleting it so I will try and do it over again!), but they did a video you can learn from already! CLICK HERE TO WATCH!
Here is the loot I got, the zip around bag I received for doing a review…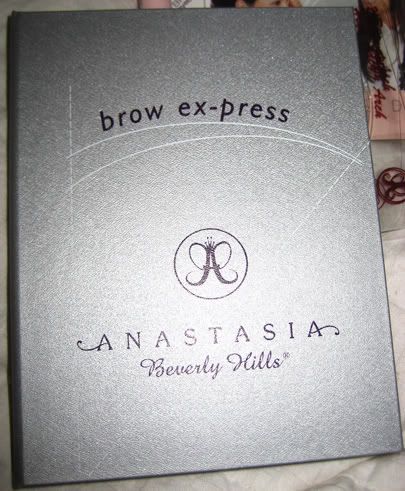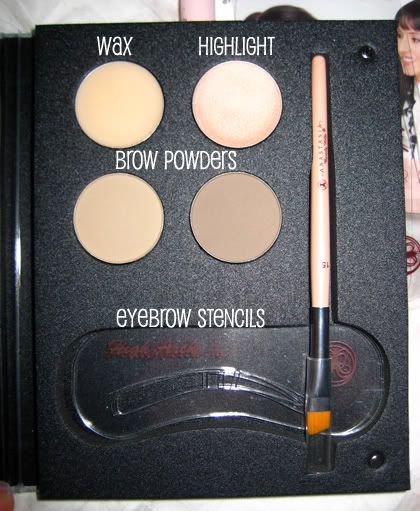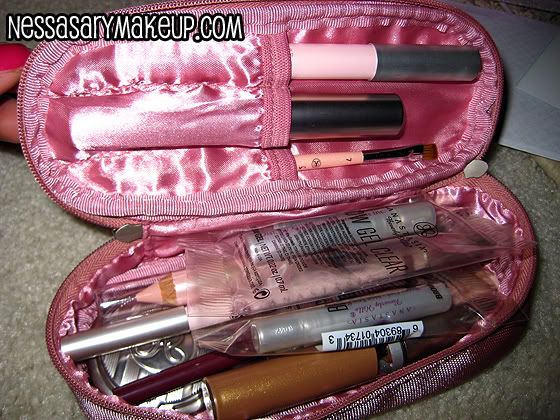 Tweezers:
The Anastasia tweezers are made by hand and have a customized slanted tip. They are calibrated and made of highest quality steel to tweeze even the finest hairs, giving you the best precision possible. They are also rust proof! However, once dropped, you can't use them anymore because they are calibrated (even), so by dropping them, they lose their calibration.
Brow Powder Duo:
It's a two-shade compact (that's available in 5 various shades) that can be applied to create a gorgeous eyebrow shape. It's great for travel and small enough to fit anywhere. It contains Vitamins C and E, and is transfer resistant. The two colors ensures to give you the perfect brow color, encased in a tiny compact with a mirror.
Brow Gel:
It's a clear gel fortified with botanical hair conditioners and essential oils to keep unruly brow hairs in place all day without flaking or stickyness.
Eye Lights (Matte/Shimmer):
These are awesome! They are used as a highlight under the brow bone from the middle to the outer part. Comes in a matte and shimmer finish. Gives a soft highlight to make tired eyes look more awake and alive, makes eyes pop. It's a cream to powder finish and is ideal for all skin types.
Go-Brow Double Ended Eyebrow Pencil and Highlight:
One end- Eyebrow Pencil. The other? A highlighter! Perfect combination and a must have in every makeup case! It's a universal brow pencil and highlighter duo that fits all skin types to create amazing eyebrows! The brow pencil is a bit waxy for long wear and to keep those hairs in place, and easy to apply!
Eyebrow Wiz: (Comes in 3 shades: Ash Blonde, Medium Ash, and Brunette)
Ultra-fine tip pencil allowing you to draw in "hairs" and give you more control. It's a turn mechanical pencil that has a spooley brush on the other end to help you blend and comb hairs down. Helps get your arches to your desired shape, giving you control to create fuller eyebrows.
Eyebrow Stencils:
Comes in many shapes such as Petite Arch, SLim High, Medium and High Arch. Allows you to choose your desired eyebrow shape to fit any face shape. Made out of plastic to last longer.
Mini Duo Angled/Spooley #7:
Comes in a mini and full-sized version. One side shapes your eyebrows, the other blends and combs. Angled tip made out of 100% Sable and Spooley made out of 100% synthetic hair. Wooden handle.
Tinted Eyebrow Gel:
Similar to the clear eyebrow gel, this one is tinted to temporarily tint the brows to define it more giving it a natural look.
Video covering some of the tools and its uses: